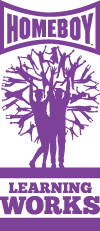 This is a strategic alliance whereby Learning Works specializes in the high school education of the young people, and Homeboy Industries specializes in jobs and wraparound services for these same young people. Our principles and commitment to the disenfranchised are a powerful match.
The main campus for our 688 students is in Pasadena with a connected satellite site at Homeboy Industry's Boyle Heights location. We have been the school for Homeboy Industries since 2010, serving youth re-entering from the juvenile detention centers/camps and youth who have dropped out. We are fiscally independent and serve as the site's high school.
Our satellite campus is served by four teachers, two tutors and four chasers serving 198 students. Just three metro stops from the current Homeboy site in Chinatown, the original Homeboy site offers a quaint storefront space appropriate for small classes and individual tutoring.  Located in the heart of Boyle Heights, this site was where Father Greg Boyle built his "Jobs for the Future" program from 1997 – 2007; the original Homegirl Café was located just down the street.
Learning Works@Homeboy will serve as a re-entry site for all the youth Father Greg Boyle, Homeboy's founder and Executive Director, visits in the juvenile probation camps and detention centers. In the context of our partnership with Homeboy Industries, we are the perfect school for youth being released from these camps.
Our students on our main campus are mostly from the Northwest Pasadena area, the poorest area in PUSD. Of these students, 89% come from one school district (PUSD), which serves Pasadena, Altadena and Sierra Madre. At our Homeboy Industries satellite campus, most of our students are from East Los Angeles, South Los Angeles, or Northeast Los Angeles (LAUSD Districts 4, 5, 6, and 7). However, since Homeboy engages youth in the camps/detentions center before released, youth could be from anywhere in the county. The new location is surrounded by poverty, gangs and the uneducated, but still a feeling of hope pervades the community.  Some of the community's statistics include:
In East Los Angeles, more than 25% of individuals are living below the poverty level, and in Los Angeles County this figure is 16% (American Community Survey 2009). In 2008, 22% of children living in Los Angeles County were living in poverty (Kids Count 2010).
With an unemployment rate that is more than 12% according to the Bureau of Labor Statistics (March 2011), the Los Angeles area stands at the forefront of the current national jobs crisis. The county's high concentrations of poverty and low educational attainment compound the challenges facing Los Angeles residents struggling to leave the ranks of the unemployed.
In the United States, unemployment is currently 15.7% for those with less than a high school degree, while only 5.1% of those who have received a bachelor's degree are unemployed (Bureau of Labor Statistics November 2010).
Ex-prisoners earn lower wages and experience more unemployment than otherwise similar men who have not been incarcerated (Western, Kling and Weiman 2001 review the literature); as many as 60% of the formerly incarcerated in New York state are unemployed after one year of their release, according to a study from the Independent Committee on Reentry and Employment. The number is even higher for parole violators, at 89%, and these figures are likely even higher for formerly incarcerated individuals in California, where unemployment rates are more severe than in New York.

© 2017. Public Works Group. All Rights Reserved.