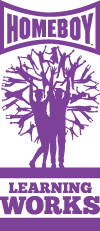 This is a strategic alliance whereby Learning Works specializes in the high school education of the young people, and Homeboy Industries specializes in jobs and wraparound services for these same young people. Our principles and commitment to the disenfranchised are a powerful match.
The main campus for our students is in Pasadena, with a connected satellite site at Homeboy Industry's Boyle Heights location. We have been the school for Homeboy Industries since 2010, serving youth re-entering from the juvenile detention centers/camps and youth who have dropped out. We are fiscally independent and serve as the site's high school.
Our satellite campus is served by four teachers, two tutors and four chasers serving 198 students. Just three metro stops from the current Homeboy site in Chinatown, the original Homeboy site offers a quaint storefront space appropriate for small classes and individual tutoring.  Located in the heart of Boyle Heights, this site was where Father Greg Boyle built his "Jobs for the Future" program from 1997 – 2007; the original Homegirl Café was located just down the street.
Learning Works@Homeboy will serve as a re-entry site for all the youth Father Greg Boyle, Homeboy's founder and Executive Director, visits in the juvenile probation camps and detention centers. In the context of our partnership with Homeboy Industries, we are the perfect school for youth being released from these camps.
To view a presentation on our partnership, see this link: Homeboy Industries and Learning Works: A strategic, loving partnership.
View the complete Homeboy @ Learning Works staff here.
© 2018. Public Works Group. All Rights Reserved.