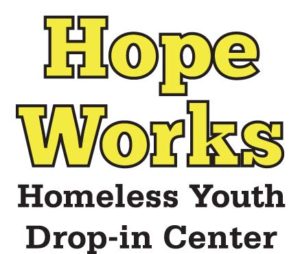 Hope Works was created by Learning Works Charter School as a drop-in center for homeless youth. The program is a free service to youth who fall between the ages of 17-24. Often invisible, there are more than a million homeless youth who live on the streets of our American cities, including Pasadena. Developmentally, homeless youth have different needs than older homeless adults, and require different intervention services.
To help the homeless youth in our community feel confident in focusing on school or work, Hope Works provides basic essentials, including an on-site shower, washer and dryer, and a warm meal, Mondays – Thursdays from 4 -7 p.m.
Not surprisingly, homeless youth often have significant mental health problems, including depression, anxiety disorders, posttraumatic stress disorder (PTSD), suicidal ideation and substance abuse disorders. To alleviate these issues and help these youth rise up from homelessness, Hope Works provides additional wrap-around services in the areas of:
Health and mental health services and referrals.
Guidance on re-entering school and/or seeking employment.
Resolving legal issues such as tickets and probation.
Obtaining IDs, birth certificates, immigration status.
Basic supplies for hygiene and food.
Hope Works is always in need of the following donations. If you would like to donate you can drop off items at our office or you can schedule a pick up at your location. Suggested items:
New socks and underwear.
Food – frozen, microwavable meals; packaged snacks and drinks.
Blankets/sleeping bags.
Hotel vouchers.
Bus tokens.
Located at: 90 N. Daisy Avenue, Pasadena, CA 91107 Open: Monday – Thursdays 4-7pm Ages: 17-23. Call Marissa Naraghi for more information: 626.564.2871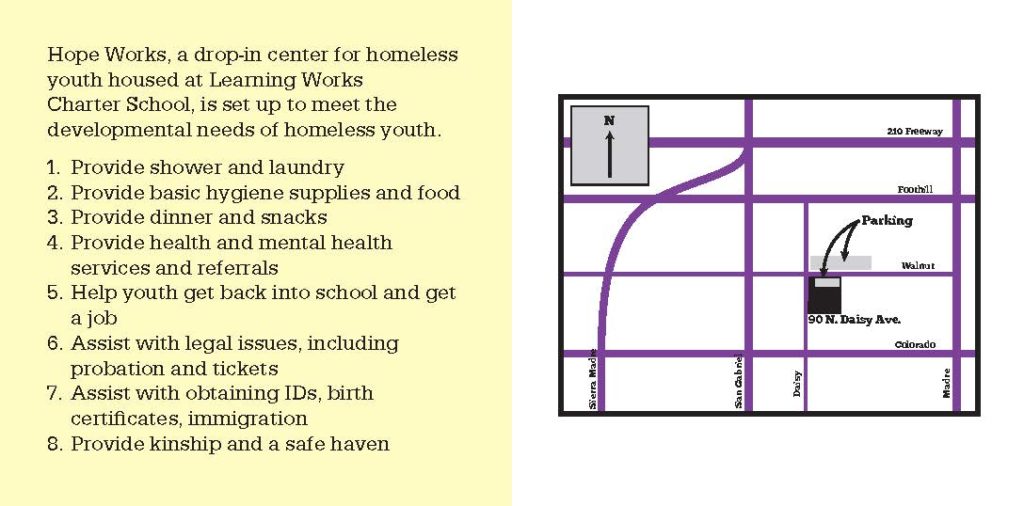 © 2018. Public Works Group. All Rights Reserved.